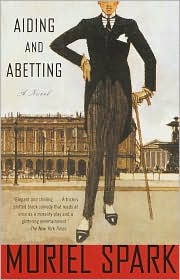 The good Dr. Wolf looked at her patient and let the above facts run through her head. Was this man sitting in front of her, the claimant to be Lord Lucan, in fact the missing murder suspect? He was smiling, smiling away at her thoughtfulness. And what had he to smile about?

She could ring Interpol, but had private reasons not to.

She said, "There is another real one? 'Lord Lucan' in Paris at the moment. I wonder which of you is the real one? Anyway, our time is up. I will be away tomorrow. Come on Friday."

"Another
Lucan?
"

"I will see you on Friday."
The story of Lord Lucan is particularly grizzly: the London socialite disappeared after a bungled attempt to murder his wife, which instead left the Lucans' nanny dead, bludgeoned to death in a case of mistaken identity. A fugitive, he appears in Paris and walks into the psychiatric offices of Dr. Hildegard Wolf, who is happy to help but for the complicating fact that she already has a patient who says that he is Lucan.
I loved Spark's
The Prime of Miss Jean Brodie,
which was small but remarkably solid, building believable and fascinating characters from very few blocks. I wish I could say the same for
Aiding and Abetting,
which is written in the same typical style, and has a really fascinating premise to boot, but can't escape feeling slight. There simply isn't enough space to pull the usual mystery tricks; Dr. Wolf has a notion of which of her patients is the real Lucan from the very beginning and seems to care only slightly if she is correct. Spark, it seems, is equally disinterested.
What she does concern herself with is the idea of identity, what is it that makes a person who they are. Is it mutable, or static? Lucan has long been nagged by the sheer amount of blood that came out of his nanny, and Spark uses that blood as the novel's central conceit--do we carry ourselves inside our bodies, as we do our blood? Or are they something we adopt and fashion, as the fake Lucan does, and Dr. Wolf herself, who is hiding her own shady past?
But that message is, strangely enough for an author whose hallmark is succinctness, muddled and incongruent; piecing together what exactly it is Spark wants to say is difficult and probably wouldn't be satisfying. The elements of social satire that abound here--the aiders and abetters of the title are, by-and-large, Lucan's fellow blueblood aristocrats who help him for seemingly no other reason than he is one of them--are either toothless or so markedly British in focus that they seem so to me.
I suppose I shouldn't complain; after all, I've read books that take an hour and a half to read that are much less engaging (see future entry:
Tears of a Tiger
). All in all, I would have traded the incredible tightness of
Jean Brodie
for a fuller, more detailed novel.