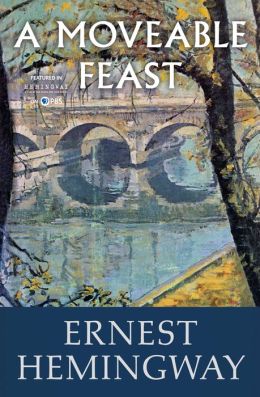 If you are lucky enough to have lived in Paris as a young man, then wherever you go for the rest of your life, it stays with you, for Paris is a moveable feast.
You should only read what is truly good or what is frankly bad.
All things truly wicked start from an innocence.
I wished I had died before I ever loved anyone but [Hadley].
Continuing my Hemingway kick (following The Sun Also Rises and The Paris Wife), as recommended by a fellow 50 booker, I decided to tackle A Moveable Feast. This book is a collection of autobiographical vignettes edited and published posthumously. The book covers the same years as The Paris Wife. Although The Paris Wife is fiction, it has all the same people, places, and events, and is structured as a typical narrative, so reading A Moveable Feast so closely after it was probably a different experience than most readers would have. It felt a little like reading George Plimpton's Capote where the reader receives different perspectives on the same events. I was able to see Hemingway's side of things, and for the record, he knows he's a cad (see above quote about how he felt after cheating on Hadley).
It was a very quick read - I finished it in about six hours of airplane travel - as there are blank pages between each story and a set of photos. For anyone who is hip with the literature at this time, it's like reading a gossip tabloid. Fitzgerald did what? Stein said that? Oh my!
I wouldn't recommend it as anyone's first or only foray into Hemingway because it's not representative of what he was trying to accomplish with his writing (although it is of course in his classic style).
My next Hemingway novel will be A Farewell to Arms and then I think it's time to put Big Poppa to sleep for a while.